Ranveer Singh said that he was surprised to find that his own Wikipedia article described him as a fashion icon, which was something that he wasn't entirely comfortable with.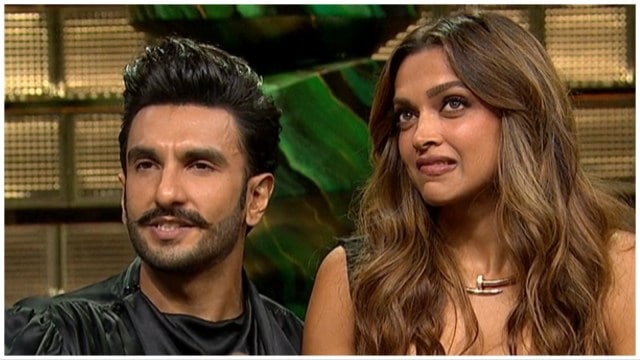 Deepika Padukone and Ranveer Singh on Koffee with Karan.
Ranveer Singh, who appeared on the season eight premiere of Koffee with Karan with his wife, Deepika Padukone, discussed his image as a fashion superstar. He stated that he was astonished when people began discussing his fashion choices almost as much as they did his acting, and that this was not something he was comfortable with. Deepika, in fact, urged him to tone down his previously colorful style after seeing his nature.
Karan Johar revealed to Ranveer that he was going through his own fashion dilemma, fueled by a'mid-life crisis' and social media trolling, and recalled when the actor approached him for image help. Ranveer stated that, as with other things in life, he listens to everyone's thoughts but ultimately takes his own judgments. "I felt like I didn't want to wear those clothing. I didn't want anybody to notice what I was wearing. "I want you to talk about my films, about my acting, about me," he remarked.
"It was Deepika who pointed this out to me," he said, revealing Deepika's advise. We were talking, and she said, 'You know, you come across as this highly confident person, but you're actually underconfident'. 'Acha?' I exclaimed. 'You should quit diverting people from who you are with all these showy outfits,' she said. That struck a chord with me."
Ranveer stated that shortly after this conversation, he went to meet director Sanjay Leela Bhansali dressed completely in black, and the filmmaker was highly impressed. "You're looking amazing," the director replied. "Your face is more visible because of your monotone. I'm seeing more of you. You should keep this going." Ranveer stated he respects Bhansali's viewpoint and disclosed that the filmmaker was the first to advise him to keep his facial hair.
Ranveer and Deepika have collaborated with Bhansali on three films; in fact, they met while working on Goliyon Ki Raasleela – Ram Leela. They also appeared in Padmaavat and Bajirao Mastani, and Ranveer is said to be reunited with the director on Baiju Bawra.