Ranveer Singh and Deepika Padukone have gone viral after appearing on Karan Johar's celebrity chat show Koffee With Karan 8 lately. Despite being mocked over their encounter, the pair recently made their first joint appearance since the incident.
Check out the photos here: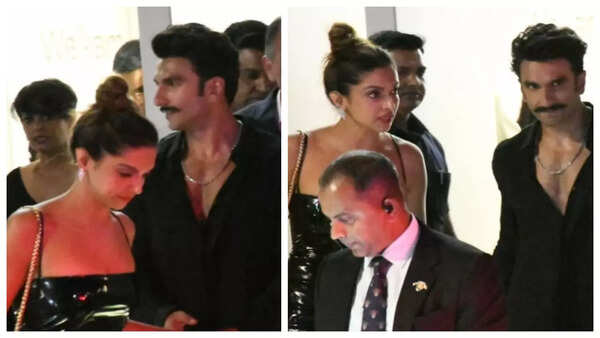 In addition, a video of Deepika and Ranveer matching in sleek black suits while attending a star-studded event in Mumbai has been spreading on social media. Deepika looked lovely in an off-the-shoulder black gown that hugged her form, while Ranveer looked dashing in a black blazer and matching slacks.
Another video shows them leaving the event, with Ranveer kissing Deepika on the cheek as they walk to their car.
Deepika Padukone and Ranveer Singh were featured guests on the first episode of Koffee With Karan Season 8, which aired last week. Deepika claimed that they were initially in an open relationship during their interview with host Karan Johar. "I wanted to be single for a while because I had come from difficult relationships," she added.
'I just don't want to be attached, don't want to be committed,' I stated at one point. And I had a good time! And then he showed up, so I didn't commit until he offered. There was no such thing as a commitment. Even if we were theoretically permitted to visit other people, we would always return to each other."
This admission spurred debate about whether Ranveer and Deepika were in a'situationship' at the start, and several people chastised them for it.
Karan Johar also responded to Deepika Padukone and Ranveer Singh's trolling for comments on his show, saying, '…no one's looking.'